If you're thinking of packing your wedding bags and jetting away to get married just do it, don't even think about it! I did it, I took the plunge, tied the knot, got hitched and it was fantastic! After months and months of preparation, the stress the wobblers, the worry and the joys of it all…… it thankfully came together on September 3rd  2015 in Florence and wowzers was it nothing short of fabulous.
I have to say though, 2 days before the wedding I was knee-high in brown boxes, trinkets, car trouble with the vintage cinquecento's, was frustrated, felt like screaming, felt butterflies, slightly bonkers, nervous, and elated and excited at the same time! There were meetings in Florence a few days beforehand with all the gang to make sure that we knew what they were doing whilst nursing an eye infection and was on my last stint at curbing carbs (which mind you is enough to send ANYONE doolally – especially in Pizza/Pasta heaven – Italy).
However, aside from all the madness and bustle of it all, it was a delight to see family and friends and get all the love and well-wishing a few days before the big day. Indeed it was so nice to receive well-wishing from lovely folk who didn't even know me on Twitter, Facebook and Instagram. Tons of viewers emailed in too and people stopped me in Ireland too to wish me well in supermarkets and shopping centres – it's been quite overwhelming and so kind and touching. I'd never been so popular!!! How lovely are all the messages and kind words of love and heartfelt happiness??!! It's incredibly special and once in a lifetime lovely so enjoy it all ladies! If people wish you well, take it, relish it and savour it – it's joyous!
In the run-up to the wedding in Florence, it seemed scary and nerve-wracking and exciting. I was run ragged one-day shifting boxes in the Italian heat and driving from one place to the next which isn't the smartest move in the tiny hairpin streets of Florence. I nearly blew a head gasket one day over it all but thankfully I have to say I was so so blessed with the A-Team that I had with me for the job, they were tremendous. As you know I had some great Irish vendors on my side who helped pull the day together and this team were my saviours. There is no way I could have had the wedding without them and they went above and beyond in Italy to ensure that the wedding was fantastic!
Shane McGrath, the lead singer from the band 'Harlequin' is one of the coolest guys you could meet – but not only that he serenaded myself and Richard for 15 minutes on our own on the wedding day over a glass of champagne and indeed then ROCKED the Castello di Vincigliata on the night itself until the wee hours. What a legend! We had him strumming to 'All You Need is Love' by the Beatles as I walked up the aisle and his band were knockout – so good in fact we nearly got plugged out of the Castle because we were too loud! Quite Rock 'n' Roll I might add – and we have now all become good friends these past few years!
Many thought it was nuts to have an Irish band over in Florence but there is nothing like an Irish loud cool rock band complete with an electric lead singer and so, when we had all 9 of them there with all the guitars, the drums and mics, it was a proper stage set up and the party really really got started. It was phenomenal on the night and the castle open-air venue really lent itself to the fine-tuning of a proper loud and proud Irish band – I was over the moon as music is so important to me, so it was perfect!! Everyone was raving about them and I even belted out 'Satisfaction' from the Rolling Stones! Shane introduced Richard and I on to the dancefloor and helped us perform our first dance to 'Uptown Funk' by Marc Ronson – yes we had a fun crazy cuckoo dance which needless to say got a few laughs!
So how did I feel in the run-up to the big day many want to know?? – Well, all I can say is what a whirlwind. I think after a year of planning, admin, dieting and deciding, I finally felt that although I was in Florence and was doing last min preparations, I was there! I had done it, I'd pulled together a hopefully great day for friends and family and I should be proud and feel calm because all that REALLY matters is that I'm about to marry Richard, the most incredible person I know! I'm of course as you might tell by now in reading the posts about me over the years, an old squishy romantic! I'm crazy about my family, I pet strangers dogs and stop on streets to chat to old people and kids, I give away most things because I never actually need them and although I was slightly mad with the anxiety, I was deep down elated inside and bubbling with excitement and happy happy happy, and believe me, that's all you can really wish for! I'm extremely blessed.
So… how was I the night before? Well, truth be known; a little nervous. We had put on a private party the night before at the J.K Place which is a fabulous 5-star boutique hotel on the Santa Maria Novella Square, right on the Piazza. It was magical seeing family and friends all culminate on the slick terrace there around 8 pm. I sauntered in with Richard and greeted everyone and was bombarded with kisses and excited hugs and those who had literally just flown in – superb! We chatted and laughed and reminisced in the balmy Italian weather and sipped Prosecco and chomped on bites such as Ravioli and Parma hams, it was delicious and delightful. We got tons of photos and caught up with everyone who was just as nervous as we were about the big day. I have to say looking back this was a very special part of the wedding as all family and friends got to know one another and started to mingle and settle in. It was lovely hearing the stories of how they had travelled and where they went and how they got there. I had decided on an emerald green party dress for the event which I didn't know just happens to have a significance, it's seemingly really good luck for a bride in Italy to wear green the night before her wedding, it signifies love and a good marriage so without knowing it I was told by ALL of the Italians at the J.K Place that I had made a great choice and that I'd be lucky in my marriage (it's an old wives tale but you know what, it was very sweet and judging by the reactions of the Italian women, it wasn't just a coincidence! Phew….)!
It was heart-warming to see everyone there for Richard and myself and I was so happy to host this special night for everyone, we quaffed and chomped well past midnight whereby many started to get anxious that I needed to get rested. I was buzzing with excitement and to tear me away from any kind of party is hard because I'm like a giddy schoolgirl so I really had to discipline myself to get back to the hotel and TRY and sleep a little. Richard and I decided on sticking to the tradition of sleeping in separate abodes so he was in the stunning Belmond Villa San Michele in Fiesole and was believe it or not staying in Kim Kardashian's kick-ass suite (yes I kid you not!!) I had stayed with him there the night before and then switched to the Il Salviatino Hotel. Richard's room was incredible and the staff even embroidered our pillows and lay rose petals on the bed, it was so beautiful. I knew saying goodbye to all our friends and family was going to be hard and I have to say I was well behaved – I wish Richard's friends had been more sensible for him but that's a whole other story!! Ha! Let's just say the Kim K suite was still partying and the lads were running amok at 6 am before our nuptials and I only found that out on honeymoon!! VERY Bold!!
So I went back after many hugs and kisses and lingering for one last drink to MY hotel the Il Salviatino which is right up on the hills in Florence. I decided to go back solo as there had been so much running around and white noise, I needed a little bit of quiet time to think and lay out my necessities (Old/Borrowed/Blue) for the day of the wedding (My handbag, My Garter, My Cards, Essential Kit and NOT forgetting my stunning 2 carat Diamond earrings which were kindly borrowed from Rocks Jewellers from my best pal Carolanne Rock – Thanks Carolanne!!) It was lovely just to have a moment and be. I'm so glad I did this and although only for a few hours (I don't think I slept a wink really) it gave me time to sit back, reflect and have a little chat with myself. I had a glass of bubbly on the terrace with nobody around and watched the lights of Florence glimmer while I took in my last few moments as a single lady… those moments will stay with me in my heart forever.
Then, it was the morning of the wedding… I woke up about 7 am and started to get breakfast and put on a little Botticelli which always livens any weary souls. I had it bellowing throughout the Suite and because the Al Fresco suite in the Il Salviatino literally has stunning frescoes on the ceiling, it was particularly special and it was at that moment I think I realised 'I'm getting married today and I'm in Italy'!! I was surrounded by my stunning white dresses and the bridesmaids dresses all hanging up and ready for the day ahead and was filled with a sense of joy and wonderment and luckily was nothing but calm from that point on. I sat back had some light breakfast and just listened to the Italian Tenors voice soar, it was a peaceful moment and then it all began…
My three bridesmaids Cathy, Maeve and Zoe arrived and it got exciting, they had been staying at the Riva Lofts, a lovely boutique hotel near the centre of Florence which had all the bridal party and Richard's family there, we had a pool party back there the night of the wedding and the night after too. It's a super cool place and everyone loved it. The girls got up early and jumped in a cab up to my hotel and got settled straight away into hair and makeup. I had the wonderful David Reynolds for Hair from 'Zeba' who is the coolest hairdresser you could meet; he is fantastic, has a superb eye and is so calming. He's fast becoming one of the most sought after hairdressers and at only 22 his talents exceed him. I knew he would nail it for me on the day as I had wanted the Old Hollywood wave which I knew he could do in his sleep. For makeup, I had the lovely Aimee Connolly who is superb at making any bride look flawless and kept me nice and calm on the morning. We had played around with colours before but on the day I left it up to Aimee (she's a real pro and again; another young lady who has cornered the market and I had utter faith in her that the makeup would be perfect which it was. It was beautiful).
It felt like a photo shoot, all the girls were chilling out on the bed reading magazines flicking through the music, laughing, fussing and making the morning very special indeed. It reminded me of a pyjama party all lolling around and having some great banter whilst getting preened. I was very relaxed and although there were so many emotions and 'lists' creeping into my mind, I was quite serene. It was a combination of tiredness, calmness, reflection and really what was there to worry about, it was simple, I was marrying the man I loved and cherished and I had my family and friends to support us both. It's a special feeling and even if the cars didn't start or someone forgot to bring their hat or someone was late, it all faded into the background when you actually understand that it's a precious few hours of your life, so take control of them and don't sweat the small stuff – simply relish in the fact that you're doing something wonderful and enjoy!
Then the superbly talented John Ryan my photographer arrived and we started on some of the official shots of the wedding and for VIP Magazine. I was delighted to see John as he's such a nice man and I know he takes stunning photographs, he's so well established in Ireland and I couldn't have thought of a better person to take every frame of the big day. I'm very used to the camera so it came as a welcome friend the morning of my wedding and I didn't feel nervous about it, my three bridesmaids looked stunning, I had picked up some beautiful silk robes in Changes Lingerie Boutique in Dublin which we brought over so the girls looked so pretty and feminine in them and we really started the get into party mode. More people arrived; the Videographer Alessandro Gattone from AG Studio Videography in Milan came up to shoot our mini-movie! Yes, Alessandro is a very gifted filmmaker and I knew a mini film is what I wanted for the day, being a movie buff, Alessandro shoots the wedding like a Scorsese picture with Steadicams and Drones so I was thrilled to have found him in Italy to capture the all-important day. Then flowers started to arrive, Josephine Higginbottom, my guardian angel delivered the most stunning bouquets for us all. Josephine (Wedding Flowers by Josephine) is from Kildare in Ireland and came over with her superb hard-working team, partner Martin and daughter Francesca. They worked tirelessly for the few days to create the most unbelievable flowers I have ever laid eyes on. It was the first thing I said when I went into the church, I gasped at the beauty of them all and how stunning she made the church. If I could hand out awards to Josephine for her dedication and skill I would, she is the best florist I've ever come across and I feel so blessed she said yes to come to Italy and work with Richard and I to create the stuff of dreams. What she also did was sober the groom up! Yes… I'm so glad I didn't know this on the morning of the wedding but as you may have gathered by now, Josephine had been helping Richard come to terms with his raging hangover, unbeknown to me she switched into mommy mode and gave him some hugs and a hair of the dog to straighten him out – bless, plus she made up the most stunning bouquet of flowers for me from Richard as a 'love note' for the morning before I met him at the altar. His card was so sweet and the sentiments too – I was in tears, it was the first of the day and they filled my heart with joy.
And so, it was time for me to get into THE DRESS!! Yes, my beautiful dress, one which I had lugged from London to Dublin, down to Athlone for fittings and then onto the Aer Lingus flight where it rested hanging up in the toilet beside the cockpit (oh lordy!) and then through Italian customs, on top of the suitcases in the car from Rome to Florence and finally to my Suite !! It was SO worth it. My Suzanne Neville dress is the most beautiful creation I have ever worn and I was very fortunate to have designed it with UK designer Suzanne in her stunning boutique in Knightsbridge in London. I worked with Suzanne and in turn Deirdre Kelly from Kadee Bride in Athlone who stocks all of Suzanne's dresses here in Ireland to create a bespoke dress that was both elegant and timeless. Deirdre is a friend of mine for many years as I have borrowed some lovely pieces for red carpet events over the years and has always been wonderful to me. When I started the hunt for the dress, to be honest, I wasn't sure what I wanted at all, I tried maybe three or four shops around the country and travelled to London once to see if Vera Wang worked or one step further Vivienne Westwood. Although stunning pieces, in my heart of hearts I was looking for something even more classic and suited to me and my body shape. I was very torn between the full skirt and the slinky, so much so that this went on for months, but after much deliberation, I knew I wanted something swooping, old Hollywood, glamorous and class and the ONLY designer that has made me feel a million dollars is Suzanne's pieces. She designs for the likes of Kate Winslet and Geri Halliwell to Holly Willoughby and all the X Factor judges etc so she's a dab hand at making real women feel special. I tried on the range of dresses in Kadee Bride in Athlone with Deirdre and then decided one evening when Suzanne herself was over in Ireland what we would go for, it was an easy decision and I modified a version of one of her classics 'Paradise' – how blessed! I changed the bodice to a crisp white crepe and added a diamanté encrusted shoulder and back detail which was accompanied by an old Hollywood style encrusted waist belt to match and voila – the bespoke dress was complete! I felt like a princess when I put the dress on, it was like magic! We nailed it, it felt perfect on and was so comfortable too. I was so happy to be in it and couldn't stop looking at it for days in the run-up to the wedding. I would just open up the packaging and run my fingers over the encrusted diamanté shoulders which glistened in the light. It was so sparkly yet understated and so pretty in white. I know its risky choosing something and starting from scratch but I'm so so glad I went for it, it was one of the best decisions I've made in years and I glowed in it on the day (it still makes me emotional thinking about it).
And so it was time to see my Dad… what an emotional moment, I walked out of the Suite and stood in the Library Room of the Il Salviatino, my Father looked so dashing in his Hugo Boss suit. Dad had gone to his good friend Paddy's Alterations in Dublin just before he arrived in Italy who did some super last-minute tailoring to his wedding suit just so it looked spot on, sharp and perfect for him on the day – ahh he looked so handsome, I've never seen him look better complete with dickie bow! I could tell that he was a little nervous and anxious about me and the big day. However, as soon as John Ryan our photographer told him to turn around and look at me for the first time, we both got so teary and emotional – it was a lovely tender moment and all he kept saying was 'you look so beautiful'. I'll remember that moment for the rest of my life, it was so special…. Things started to speed up from there on and it was onto the church…our three vintage cinquecento's arrived which we had got in the three different colours of the Italian flag – red, white and green and it was so funny seeing the cars all tooting and beeping and the bows and ribbons on them! It was the first time I saw all of Richard's Groomsmen arrive and they looked so suave and so handsome all decked out in one of Richard's favourite British labels Hackett. I had obviously seen the suits many times before because Richard had brought me into the Hackett store in Dublin but when I saw them all in the flesh coming towards me waving and being so happy in the cars, it really felt like it was coming together – as soon as I got the first hug from his uncle who said 'Richard's waiting, let's go gorgeous' plus his beaming smile, I knew it was going to be a great wedding!
So off they all hopped into the cars, giggling and laughing and Dad and I went in our separate car to the church. This was such a special moment for me on the day, we chatted and laughed and although both of us were quite nervous and there was a little trepidation, it was wonderful. I was delighted to have had those very special few minutes with him in the car before I stepped out because as soon as I opened the car door flashbulbs went off! It was a little bit crazy as about 8 paparazzi had landed at our tiny little church in Fiesole, all snapping away. We took some beautiful shots outside the church and I posed with my three beautiful bridesmaids who looked more beautiful than I had ever seen them. Their dresses were bespoke, made by Irish designer Synan O'Mahony who is one of my long-term friends and Synan and I had several meetings sketching and designing in his design studio in Dun Laoghaire. The three dresses were all different for each girl to suit their body shape and were floor-length mink/truffle colour with diamanté embellishment on the straps to suit each individual. Maeve was to the left with some rousing with soft chiffon draping down the back, Zoe was more empire line with some chiffon on the arms and Cathy's was tapered in around the bust… they all had quite a large split on the side so they were more red carpet glamorous gowns than typical bridesmaids dresses and they had inbuilt corsets for them too – they to my mind looked amazing and I was so proud of them all. They have all known me for 100 years and were so fabulous on the day and looked so wonderful and beamed with pride. I teamed Synan's stunning creations with handmade diamanté headpieces from Azure Jewellery in Cork and little mocha pearls and bracelets to match and LK Bennett silver strappy shoes. I have to say when I had their dresses and my 2 dresses hanging in my room the night before my wedding when I was on my own.. I've never been more proud of all my hard work. It felt very real but very very special.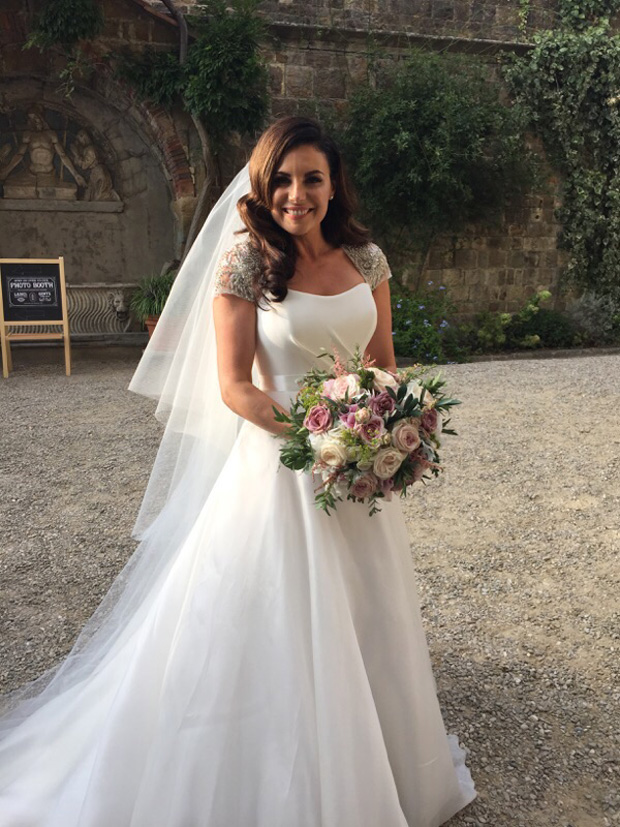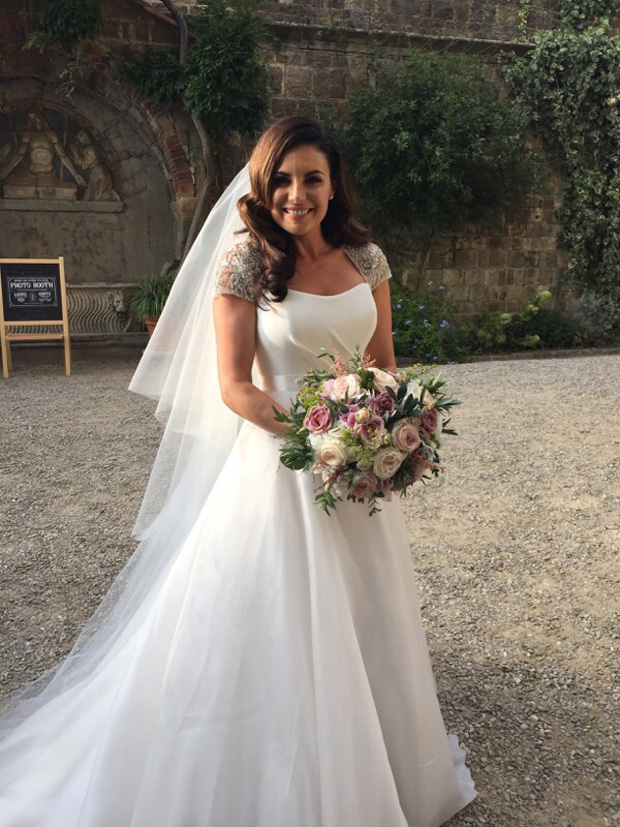 And so, all my three special ladies in waiting were hovering around Dad and I outside the church and I was pretty excited at that point. I just couldn't wait to see Richard and see his smiling face, it felt very right, natural and normal… thank god! I don't remember much of the church as I felt quite overwhelmed and delighted, all I can remember is smiling and beaming from ear to ear but I knew that I danced up the aisle… yes danced. I was linking my dad and when 'All You Need is Love' by The Beatles was played by the String Quartet I felt so happy! I swayed and shimmied and bopped up my aisle covered in white rose petals and when I got to the top I saw the love of my life….
Josephine my florist had done the most incredible job of the church it was literally bursting with soft minks and dusky colours from the highest point up at the Organ to the pew ends of baby's breath and white ribbon and soft willow – it was one of the first things I said to Richard who looked so dashing. I couldn't stop looking at him and giggling. He wore a sharp Tom Ford suit and his lapel had a matching truffle rose, I have never seen him look better and I was overcome with emotion and sheer happiness. If I could have frozen in that moment in time, I think it would have probably been one of the best moments of my life…. It was perfect.
The church was packed to the rafters and we had to seat some friends and family behind the priest all around the back which made me laugh. It was very hot in the church and everyone was fanning themselves and smiling love hearts all over the church. The beautiful stain glass window was reflected on the white carpet and the sun shone.. shone so brightly, thank you sun! The mass was so heart-warming and heartfelt, we had one of Richard's very dear friends George Hutton (Irish Tenor) sing some classically beautiful songs which filled up the church with his glorious voice and Shane from Harlequin band strummed 'Just Say Yes' by Snowpatrol and 'Somewhere' by The Beatles too when we lit the candles. It was magical and George's singing was spectacular, he filled the church with song and everyone loved it!
Richard and I wrote our own vows so that was so special to be able to say them in front of all our friends and family and his aunt wrote a special poem in Welsh for us to keep safe and love each other. I couldn't understand it as she spoke it in Welsh but I could see Richard's family all getting very teary especially when George belted out 'Bread of Heaven' – aww, wonderful! Although the church seems like a bit of a blur and I was quite overwhelmed with all the love in the room, I know I was enjoying it all, taking it all in. I was looking at all the things I had talked about with my Irish team over the whole year, special mention goes out to Ricard Delahunty from Varak and Clyde who handmade all our little pew ends and the favours and elaborate princess castle cake stand plus many many other stunning features (signposts and photobooth stand) throughout our wedding. I was blown away by the little houses which had Newbridge Silverware diamanté pieces inside! All the detail.. Ricard and I went down to Newbridge and picked out all the pieces which were to fit inside the little houses.. and then as he drove them all over from Ireland! Yes….incredible… what a special man and his work is beyond fabulous. It made my heart so happy to see all our ideas and his hard work and craftsmanship come to life, even outside where they took the main official photo, Ricard's little houses were there on display.. proud!
So… it came to the big moment and Richard and I were to be married, it all happened so quickly I'm not sure either of us were sure it had even happened but I remember feeling on top of the world.. we exchanged rings, Richard's was a polished silver ring from Rocks Jewellers in Dublin which says 'Our Story Begins' inscribed in Welsh and mine was a diamond band from Haniken Jewellers in New York inscribed with simply 'Love'.. Ironically my wedding bands were the first things I ever purchased for the wedding over a year ago – just goes to show how eager I was! Ha!
The photos outside the church are one of my favourites as we were so so delighted with ourselves and it's a reflection of our happiness! But we didn't dilly dally, we were running an hour and a half behind (oh yes – how did that happen?) and we jumped into our white vintage Gulietta and sped off up the Tuscan hills on up to the Castello di Vincigliata with horns beeping and three the colourful cinquecento's behind us! Hurrah!!
We arrived into the Castle to the song 'Start Me Up' by The Rolling Stones and Shane and our band 'Harlequin' were already there dapper in the Tuxes belting out the tune! It was magic.. we drove the White Gulietta and the three cinquecento's onto the castle grounds where our Aperitivo was happening and all our guests thought it was brilliant! When I got out of the car I was gobsmacked, the castle looked unreal – so so crazy cool. My Irish wedding planner Blaithin O' Reilly (TheWeddingExpert.ie) had outdone herself. She is one of the best organisers I have ever come across and her and her husband James are the nicest people you could meet. They toiled for hours the morning of the wedding to ensure that every trinket, picture frame, Clarins toilet product, perfume and pot was in place. They unloaded every box I had shipped with parasols and prints to be designated to each little spot. We had chalkboards and a photo booth set up not to mention little birdcages and bows on every nook and cranny – it really was breathtaking. Blaithin has been my rock over the past few months coming to my house, taking cuckoo late-night phone calls from me and being a brilliant friend. We have had more laughs than anything pulling this wedding together and if I could give her one of my organs I would. Blaithin and Josephine and indeed Shane were the backbone of my wedding and have become lifelong friends. Their spirit and generosity has been so heart-warming and to see them always makes me smile.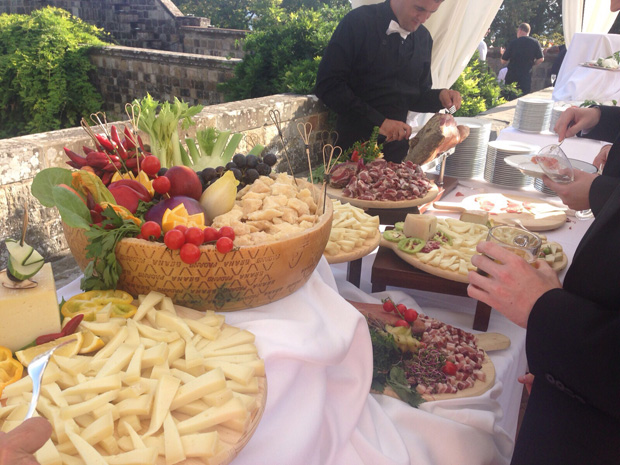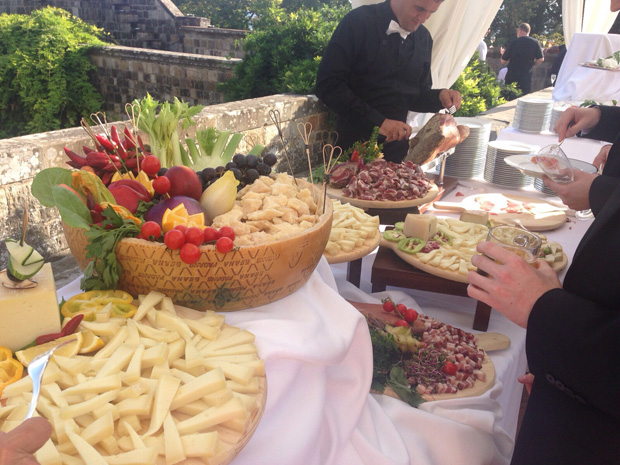 So when I went into the castle the first two people I saw were them both and I gave them the biggest hugs – I could have nearly cried more then, than at the wedding. I walked around the castle and saw the oysters, lobster, dry ice bubbling drinks, the champagne, the unreal eye-popping spread by the caterers and holy wow – the table layout! I know I had picked the glassware and the linens and candelabras but when I poked my head into the courtyard I was stunned. I walked around hand in hand with Richard and saw all of the beauty and hard work that we had created over the year. I was very proud. It was so lovely to see my friends and family taking snaps and coming over and saying they thought it was beautiful, it was a lovely feeling.
Over in the Corner lay the most stunning cake I'd ever seen, Tracy Desmond of Trace of Cakes in Cork had our 5 tier mink/pink and mocha truffle cake displayed on her castle stand – wowzers. I had to stare at it for a few minutes to soak it all in. The Backdrop was the Tuscan castle walls and Tracy had done an incredible job. Tracy and I like the others, have all become great friends and I call them the 'Dream Team' they are the Irish crew you need by your side and do the best job above and beyond that they can for you – I have been truly blessed with my choices and Richard and I will love them all forever!! Although we designed the cake and the stand together with Tracy and Ricard all those months ago, seeing it there made me well up. It was there, that plus our really cool Table Plan… Paul from Table Plan Designs in Dublin rocked THE coolest medieval table plan complete with silver stamps with L and R melted into them. I had friends of mine coming over and grabbing bits off the table saying wow how different!
I had shipped tons of photo frames over months ago and had special arrangements for each of them – some of my beloved mother to have for her table and we used an Irish candle company WeddingCandles.ie… we had personalised ones for the church and then one very special one made in honour of my Mum which still makes me cry as it had a special song 'Let it be' by the Beatles inscribed on the back. We also had little candle favours personally inscribed for our guests to take home that had the date of the wedding and the castle in the same font as the invite – I kept the same design and style throughout. This detail plus Paul's table plans of all our favourite 'Heroes' from John Lennon to Al Pacino and De Niro, completed the style and look of the Courtyard and we even did up medieval menus too! I couldn't have been more happy and proud. It was shame I couldn't have been a guest at the wedding as I would have gone around taking pictures of everything!! I'm such a detail nerd like that!
And so all our wonderful guests ate, drank and were merry, Shane and Harlequin swayed with some jazz whilst everyone walked around the garden and looked at the keys hanging from the tree with ribbon, or grabbed a parasol and shaded themselves from the Tuscan heat. The castle is like a little museum so many guests wandered around and took pictures up at the very top where we had laid out cigars and Jameson Whiskey for people to help themselves in celebration. There was so much to see between the beautiful flowers and candles, the cars and of course the castle itself which was lit up with all its medieval torches!
We released 100 white balloons in honour of my late mother Laura and it was a very very special moment indeed. I said a few words and then Shane sang 'Here Comes the Sun' by George Harrison and when the balloons were released into the air and went up and over the castle, there wasn't a dry eye in the house including myself. It was dedicated to her and anyone who has lost someone so everyone can relate to that. A few people told me afterwards that they saw 2 doves in the air fly over the balloons and that the sun was setting behind me – again something I'll remember forever.
So…. rather than keep writing because I could, I could write on for another 6,000 words but I'd like to keep the rest of what happened at our wedding for us, however I can tell you this, the speeches were heartfelt, my Dad's and Richard's especially and mine, well… it was a little different. I played a video montage from a few celebrities who wanted to give Richard and I some marital advice.. listen, only because I could get access to them was that ever able to happen, so between Will Smith, Channing Tatum, Saoirse Ronan and Will.I.Am wishing us well, poor Richard didn't know what hit him, he was blown away! Perks of the job more like!!
I have to say though after all the organising and planning, cake tasting, flower deciding and dress fittings, it was ALL worth it. It was THE most magical day and to see Richard up dancing with all his mates and having the time of his life it was so special. I still can't believe I made him take dance lessons!! Anyway poor guy… you do put your heart and soul into a wedding and even if you're not into weddings you try and put your best foot forward and it's a lovely feeling when they say the cliché – 'It all comes together in the end' – which it certainly does!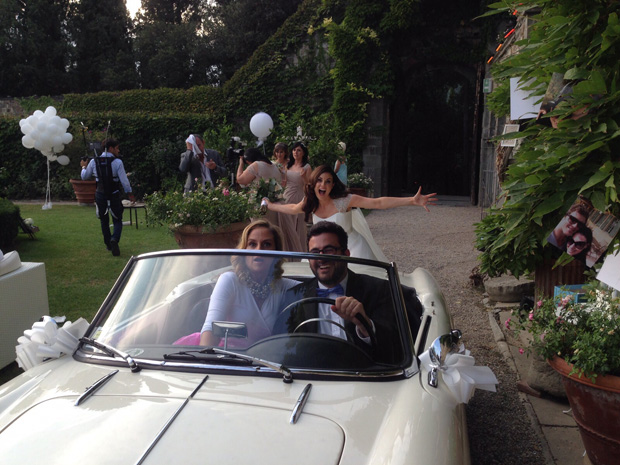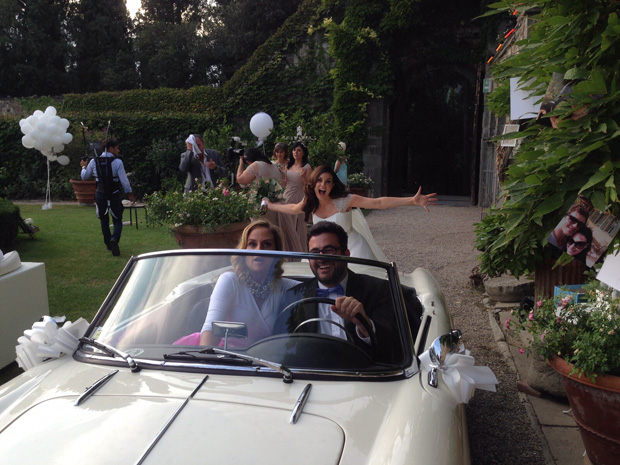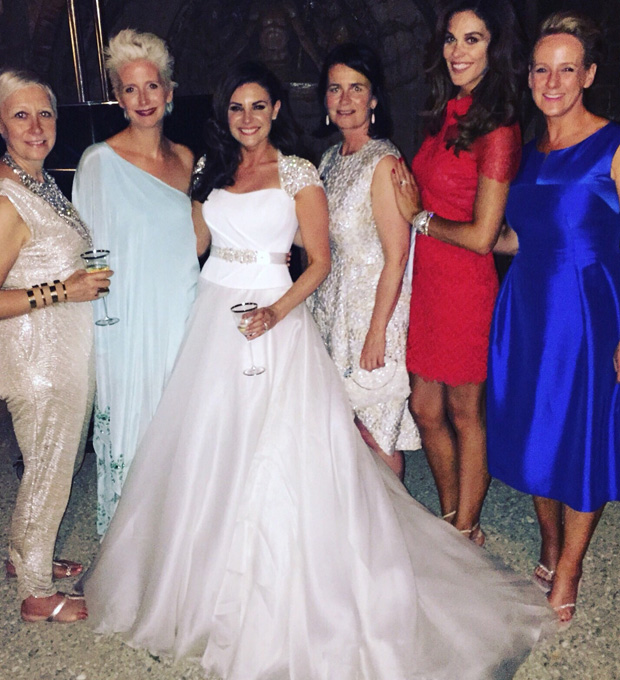 I'll leave you with this… One of my favourite moments later in the night was dancing to the DJ Alan Geraghty – Alan is Irish and travelled too with Shane and the band to play all our favourite tracks to finish off the night. He was brilliant and such a nice man. All the wedding guests were dancing away on the dancefloor with the twinkling lights of Florence in the background having a fabulous time and I walked back away from the castle and just observed everyone chatting, laughing, eating copious amounts of cakes and desserts that had been left out and Richard being airlifted up, roaring laughing and I could see our fire-dancers spinning away gloriously in the corner with a crowd gathered around. It was again like the night before my wedding, a little moment just for myself to see the wedding and just be. It was very special and I was immensely happy that although a few glitches happened on the day, and they always do, it felt like I had done it. I'd seen the happy day unfold before my eyes. It would have been super at that time to have stopped everyone and start all over again because it really does flash by you in a blink of an eye and when you wake up the next day you're elated but a little sad that it's all over! The build-up, the hype, the worry and excitement and then poof – over! Sadly that's life, those big moments are like Cinderella, they only last for 12 hours and then they're over and you like us all only have the wonderful memories left to cherish.
But if you're reading this and are planning your own wedding, my simple advice would be this, don't overthink it, relax and plan it the way you would like it, but try and enjoy pulling all the elements together as there is no doubt it's stressful and some days not as joyous as you think and then other days and parts of it stand up fabulous. However, it's only a fleeting snapshot in time and one that is a very important day but a little overwhelming so just… ENJOY it! You and your new husband will be pulled from billy to jack and asked for a million photos by guests and stopped and told old stories by your aunts and uncles when you'd rather be eating something at the reception (you hardly get to eat anything or drink anything properly all day!) but relish it, savour it, enjoy those moments because whether it's cutting the cake or doing your first dance, it all flies by in an instant. My final word is take 5 minutes with your husband and sit down and soak up together what you've just done and cherish that little vignette of time because that's it – you just got married and it's amazing!!
Thank you for reading my book! Ha! Hope you enjoyed it and it was indeed the best day of my life, I just wish I could do it all over again and I have to say I'm the happiest I've ever been in years – it's totally worth it……and ladies – have a great day too whatever and wherever you're having it, you 100% deserve it!
Love and Light
Lisa xx
Lisa & Richard's Wedding Suppliers:
Photographer: John Ryan Photography | Videographer: Alessandro Gattone from AG Studio Videography | Wedding Planner: Blaithin O' Reilly from The Wedding Expert| Venue: Il Salviatino Hotel Florence | Lisa's Wedding Dress: Suzanne Neville at Kadee Bride | Richard's Suit: Tom Ford | Bridesmaid Dresses: Synan O'Mahony | Bridesmaid Jewellery: Azure Jewellery | Groomsmen Suits: Hackett | Hair: David Reynolds from Zeba Hair Salon | Makeup: Aimee Connolly | Music: Harlequin Wedding Band | Tenor: George Hutton | DJ: DJ Alan Geraghty | Flowers: Wedding Flowers by Josephine | Wedding Cake: Trace of Cakes | Candles & Candle Favours: WeddingCandles.ie | Favours/Woodwork: Varak & Clyde Crafts | Table Plan: Table Plan Designs | Wedding Decor:weddingsonline Shop | Fans: Wedding Belles Bridal Accessories & Gifts | Lisa's Wedding Ring: Haniken New York | Richard's Wedding Ring: Rocks Jewellers