Every year I look forward to the excitement that builds around Awards Season and every year it doesn't fail to disappoint! Not only are the gunas glamorous and fabulous but hair and makeup turns from being aspirational to inspirational! I have covered the Oscars twice (2008 and 2015), been to the Golden Globes and there has never been a time where I felt they nailed it as much as this year. Some years are better than others but to my mind's eye, 2016 Awards Season was one of the best yet… maybe I'm a little biased as it was dubbed the 'Irish Oscars' but even last year when I stood on the red carpet in LA myself, did I see better fashion than that of THIS year? No… so let's break it down…
First up we had the gorgeous glam from the SAG awards, the head-turning looks from the Grammys and every remarkable beauty creation from the Golden Globes, but all of the shows were leading up to the biggest night of the season – The Academy Awards!! This is undoubtedly the show-stopping night when the most elegant looks come out on the red carpet. From glowing skin and lush lashes to enchanting updos and smoky shadow, there was a host of looks to inspire any bride-to-be. I mean let's be honest – it's cliché but true: you save the best for last. And that's never more on the money and costing the MOST money than The Oscars. It's the King Kong of the award season when each red carpet – and each designer gown – is merely a dress rehearsal for the main event.
There was so much to choose from as it was a good vintage but to be fair too there was some horrors! I have weeded out the good ones for you with not only my own personal favourites but by popular demand and narrowed it down to 5 LOOKS from The Oscars that would make you quiver with joy as a source of inspiration for your own Big Day (oh and remember to imagine them in white)!
In at Number 5 is: Brie Larson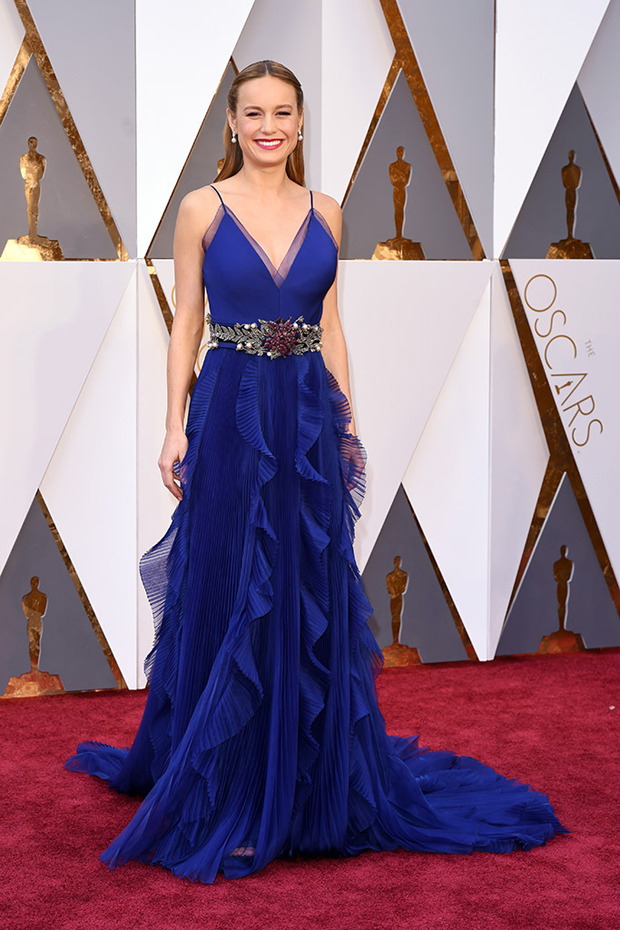 An up and coming actress and of course now famed for her gritty role in the Irish made film 'Room', Brie Larson is a force to be reckoned with and is fast becoming a fashionista in her own right. The Best Actress winner stepped onto the most important red carpet of her career thus far in a bold lapis blue custom Gucci by Alessandro Michele dress and waist-defining statement belt. What I love about this dress is the soft fluidity, it reminds me of a Jenny Packham. If this was in white it would fall and flow so beautifully as a bride whilst holding everything in place. Need I mention the belt?… I wore a stunning Suzanne Neville dress from Kadee Boutique in Athlone for my own wedding in 2015; I adored my belt and was so happy I wore one. I think belts in 2016 are still here and can really transform a dress and in this case MAKE the dress. Be careful not to go too thick though as it can sometimes be unflattering. Best to stick to simpler options. My other main focus and inspiration for a bride in this look would be Brie's hair, softly pulled back to reveal her pretty face – I think the hairdo for this look is first class and although may not suit every face shape is one that is both flattering and youthful all the same, complete with little dainty clips – a winner!
In at Number 4: Charlize Theron
The Mad Max star was truly statuesque in a plunging red Christian Dior gown accessorised with a perfectly-placed diamond pendant. Now, ladies, THIS is how you should wear a slinky dress, albeit very low in the front (but lift it higher to cover up more for the altar) – I loved its perfect silhouette and long clean lines. I think if this was in white for the no fuss bride, its sublime tailoring would complement most shapes. Believe it or not there is quite a bit of structure to this dress and although the plunging neckline can be removed or replaced, one can see that the bottom to middle section could be shaped and even tightened some more. The pooling at the bottom is so elegant and you can see here in the photo that it drags along that carpet with her, this fluidity going up the church or in photos would be so regal. Simple but classic and positively divine! Ooh and loving the sleek, sophisticated hair as well, it accompanies the Dior gown beautifully.
In at Number 3: Alicia Vikander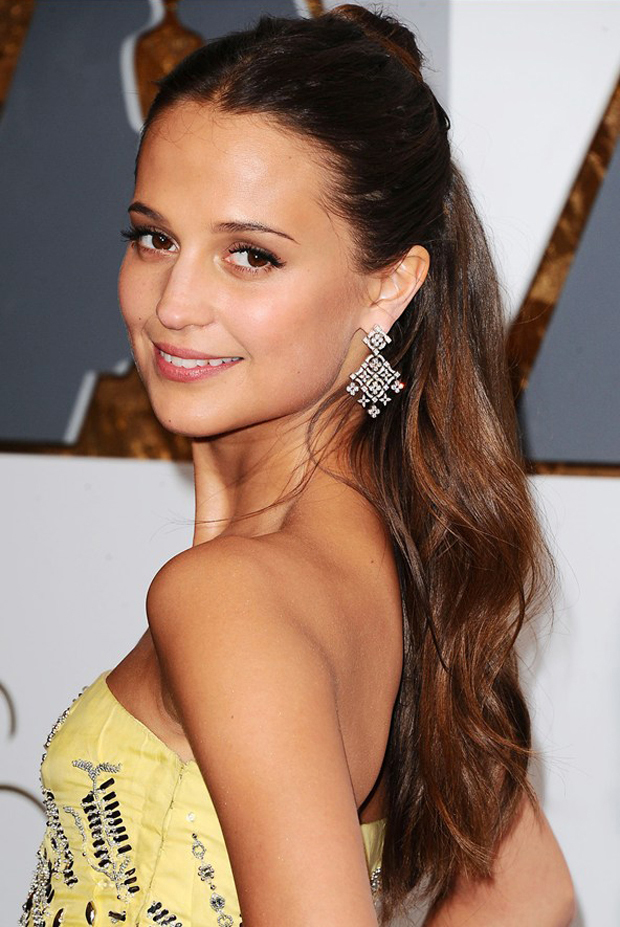 The belle of the ball, Vikander accepted her Best Supporting Actress award in a dusty yellow ball gown by Louis Vuitton for a total Oscars princess moment. Now although this got mixed reviews on the carpet from some of the fashion critics, I loved it. It was mimicked for being like a Bed and Bath commercial where people joked, had she taken her duvet from the sofa with her to the Oscars for comfort or was she trying to emulate 'Beauty' from Beauty and the Beast.. ahh goodness so harsh and so untrue! I feel this dress comes in at number 3 for me because of its fun and opulence. It's like an 18th-century creation with a modern twist! I know that the fabric is heavy and almost royal in its playfulness but the simplicity of the neckline and the daring up-kick at the front makes it a winner for me! I feel that this 'look' could be altered for any bride and the shape is a classic wedding dress too. I wore a Vera Wang dress similar to this to the VIP Style awards last year as a nominee and it gained some attention for some interesting reasons, although like Alicia's, it was bridal by its very nature, it was the up-kick at the front that made it stand out and I adored it. I think if you're going to wear a big dress, then best wear it with pride and own it. No dress can ever be too big! Fact!
In at Number 2: Saoirse Ronan
She stole the show for me as not only being fabulously and effortlessly cool with her different coloured Chopard diamond earrings, her laid back glossy messy 'do', her nod to being Irish in her sparkly green Calvin Klein dress but that well… she's IRISH! Saoirse can do no wrong in my books and having interviewed her a good few times over the years she really is a special, special lady. I can honestly say that many a fashion critic opened their eyeballs a little wider when she came on to the red carpet at the Oscars, nobody expected her to go so glitzy, grown-up and glamorous. She really pulled out all the stops and for a young lady in her early 20s, she showed some of the others how it was really done! I think if we were to take a fashion leaf out of her book on this for bridal inspo.. I would go with the touch of embellishment and sparkle, I personally feel that it's OK to go with a head to toe sparkly wedding dress as long as it's subtle, same as lace, as long as it's subtle. Try and keep the focus on you and NOT on the dress, it sounds ironic but it's true. Simplicity is often the best ammunition and in Saoirse's case with this dress, it spoke volumes. Use something like this for a wedding on the beach, a registry office or a second wedding. Plus the beach hair, class! Yep, she nailed it!
And drumroll please… In at Number 1: Cate Blanchett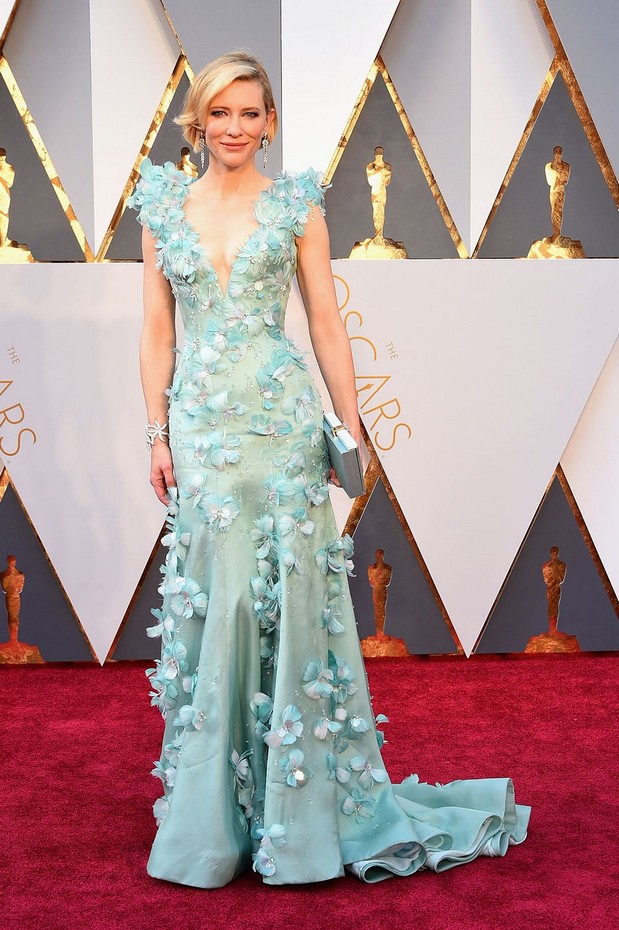 Well…. Number 1 for many good reasons but really and truly, THIS is what you call an OSCAR gown! A completely original creation by Armani Privé had the elegant Blanchett floating down the red carpet and to the top of my best-dressed list, yes this dress was a show-stopper if I ever saw one. Dusky Powder Blue by nature and complete with little butterflies embroidered on it, it was a dress like no other. I think that Cate stole the show in this dress. Not only can a dress like this complement the figure and create lines and a stunning silhouette but it was the sheer work involved in making a dress like this feel like it was floating on air. As you can see from the photo, Cate is wearing very little jewels from Tiffany and rightly so, they enhance the beauty of this Armani Privé design rather than take from it and for me, I have never seen Cate look any better. 10 out of 10 for originality and design and for a wedding dress, something like this would be utterly magical and will take you, your groom, your family and friends' breath away! Perfection.
Photos courtesy of Daily Mail and Hollywood Reporter