Helllooooo everyone…if you are a bride to be and have read through my wedding day post then I only thought it was fair that I share with you all the details about my Honeymoon and the days following the wedding. Yes, it was ages ago but that doesn't take away from the fact it was one of the most amazing and meaningful trips of my life! Richard and my first ever holiday as a married couple, to be honest, the whole wedding and honeymoon still feels like yesterday! So brides please choose somewhere magical and relaxing for your honeymoon because trust me you're gonna need it big time!
Yes, after the celebrations of the wedding drew to a close at the Castello di Vincigliata on September 3rd 2015 we had one last party blow out (the 'final stand' as we liked to call it) the following day on the 4th at the ever-cool 'Riva Lofts' in Florence with all of our wedding guests. It was a wild, fun, funky and fabulous night with the theme 'mid-summers night's dream'. So I covered every inch of the place with candles… yep, I raided IKEA in Florence and bought hundreds. So we lit up the 'Riva' like a million stars with floating candles, hundreds of colourful lanterns, flowers in the pool, tiny twinkling lights all around the venue. The photo booth and blow up guitars from the wedding made an appearance plus photo frames and rugby balls too!! It was like a mini wedding again but this time so relaxed and full of people loosey-goosey style and in final party mode. I was surprised by all the oil left in everyone's tanks, after day three. They did themselves proud. Party people at heart no matter what age! It was tremendous craic though. Family and friends up singing, guitars on the go, dodgy dance moves, Pizzas and Italian ice cream. Plus a copious amount of delicious pink and gold Prosecco and wines from my friend Aoife; J&C Kenny in Galway! (Yes, call us crazy but we shipped over enough for the whole wedding crew, some delicious wine and Prosecco from my Dad's neck of the woods – The West!)
There are some hilarious albeit interesting photos from our sing-songs and last night – or rather first – night as a married couple at the Riva Lofts Party. A pool party that will go down in history among the so solid crew who were there – say no more!!
It was wonderful to have gotten married and we celebrated in style earlier that day with a delightful and delicious brunch at the Il Borro restaurant in Florence city centre. You could say the Honeymoon began there on the 4th with Fabio and his team of chefs cooking up a storm at the restaurant while all our guests hung out on the Ponte Vecchios and sipped drinks, chatted, laughed and swapped stories about the wedding. It was so wonderful to see everyone together soaking up the sun and eating all the culinary Parma ham, ravioli and delicious foods from the brunch prepared for us there by the dedicated staff. I was able to take time and meet with friends of my father and mother, cousins, aunts and those I only briefly spoke to on the wedding day. After the Mid-Summers Party rocked at the Riva until the wee late hours, it was sadly time to say goodbye to everyone and begin our own journey as man and wife with a pit stop back to the Il Salviatino Hotel in Florence to nab our bags before we hit the road.
We were very lucky to have my good pal Paul Manning from Hertz who helped us source our wedding car so although the Audi A8 made me look like a member of the CIA with the tinted windows, it was mighty tricky manoeuvring the cool beast in the pint-sized Florentine streets for the week. However, it worked a treat on the slick open roads – yep we glided up to Tuscany in style with the white bows and ribbons flapping in the wind with the wedding dresses and luggage piled high to the ceiling with shoes, bags, flowers, candles, anything I could salvage from the past three nights. I was determined to bring the travelling circus of trinkets from our wedding everywhere with us and keep the party going. Sadly the new husband put the foot down partially because he couldn't see out the rearview mirror… So… somewhere between Florence and Tuscany, we had to offload a few tons of wedding sprigs (sorry florist Josephine!!). Good news is Richard and I started out our second night of the honeymoon tucked up away from parties, pools and Prosecco in the Tuscan Hills about an hour from Florence at the Borgo Santo Pietro, a stunning 5-star property which I would urge anyone to see, it's truly magical.
Although we sadly were only able to stay the one night it was so special and we really hope to return next year for our one year anniversary so we can soak it up and enjoy all the gardens and red Vespa's on offer with the exquisite lush countryside. When we arrived we were exhausted although the real crazy "I need to sleep for a year" exhaustion only crept up on me when I was in Seychelles but I'll get to that in a bit… I chose the 13th century Villa Borgo San Pietro because I had heard such incredible things about it, from the sense of calm and relaxation to the rich haven of history surrounding it. I had friends who had stayed there before and told me of its beauty and the sumptuous accommodation and interiors. I was so excited to get there and have a bit of 'us' time after all the madness of the wedding week. I had actually wanted to stay at the Borgo over a year and a half ago when we were food tasting for the wedding but it didn't materialise so it was on my bucket list and then finally was on the honeymoon list. I'm so happy we got to see it on a trip as special as our honeymoon as time was tight, but for the night alone it was so so worth it!
The Borgo is famous for its fab food (plus Madonna stayed here so not bad??!!) so was only dying to experience it especially 'cause I'm a foodie so as a surprise for Richard; I booked the 10-course food taster and wine pairing extravaganza and got to work – eating! I hadn't eaten a proper meal in days – I had been running around like a lunatic but had been the slimmest in years!! So… I troughed, feasted, gorged on all the Italian food put in front of me and was in heaven. It was the best meal I had in years and I finished all 10 courses – BOOM! It was so special to be dining outside under the Tuscan stars and with a fire on beside us al fresco. We chatted to the delightful waiters and staff and they couldn't have been nicer, congratulating us on being newlyweds. We finally got to have a moment with each other and breathe – it was one of the nicest, most intimate nights of my life and I'll remember it forever.
So… after all the delicious wines and cheeses and Italian foods from dinner to breakfast and a quick dunk in their infinity pool for good measure, it was time to say 'Arrivederci' to Italy and get to an airport because we had planes, trains and automobiles to catch! And so it began… we flew back to Ireland that same night for one night to offload the wedding dresses, suit, speeches and all things wedding. How had we managed to bring so much?? We got home at 1 am and were back on a flight to Seychelles at 10 am. Although we had barely any sleep and it was a mere pit stop, the suitcases had been pre-packed and it was onwards and upwards with Emirates, an airline I love to travel with. I think what kept the adrenaline going was the fact that we had business class flights to Seychelles. I know a lot of honeymooners (if the budget allows) try to do this and to my mind, it's so worth it, plus it was part of my wedding present from Richard (Winner!). It's so nice, what with all the lovely champers and food etc. but you can SLEEP!! I've never been so appreciative of lovely pillows, a blanket and a horizontal reclining chair bed in all my life. Of course, I was so excited I was buzzing, but after a few glasses of vino, we drifted off and awoke in Dubai after been given a little cake as a celebration of our marriage (how cute, thanks Emirates Air Hostesses – adorable) and then connected to Seychelles and arrived there, what felt like 2 minutes later. Arriving in Seychelles was magical. As you touch down and look out the window we couldn't help but squeeze each other's hand and wonder what was to await us over the coming days on the island. I have always wanted to visit there and after much thought decided it was the destination for us. Now although it was raining where we arrived (naturally we would come when there was a freak 10-year storm which had the island in a black cloud for 3 weeks!!) thankfully, we only had two days of it and it passed and we had blistering sunshine for the rest of the honeymoon which was pure magic!
On arrival, we were whisked over to the Hilton Labriz Resort Hotel & Spa, (this was where we were staying for the first few days) and relaxed with a welcome drink. I was so mind-blowing to think that we had literally been in Ireland for all of 6/7 hours, slept with one eye open for 2 of those, had flown back from Florence and previous to that, had driven from Tuscany and before that partied for a week solid having only reached the leaba the final two nights at 7am! No wonder I was seeing stars! That is when the 'I can't see straight' exhaustion started to set in. A few snuggly hours on the flight helped get over the hump but I needed a dinosaur, mouth-open drooling kind of sleep and nowhere better than our suite at the Hilton Labriz. We boarded a speedboat and were zipped over to the Hotel on Silhouette Island which is one of the most beautiful islands I had ever seen, so lush and tropical with mountains of stunning scenery. It looked like it should have been the backdrop to Jurassic Park! When we arrived at the hotel we were blown away, it was so cool and classic and a delight to finally meet all the staff who greeted us with big happy smiles and a string of seashells for around our necks. It felt so good to have finally made it. I had a picture of the hotel stuck to the fridge for the past few months and any time I was having a bad day I would just think – I'm going THERE! With cold towels on arrival and a welcome cocktail to hand, we were shown around our suite, the presidential suite. Yep, Richard, good man, amazing man, had pulled out all the stops for the honeymoon and although it was only for 4 days we had the best time of our lives. It was perfect. The Suite was enormous. Total privacy and when we walked around it, we were like little kids jumping up and down squealing at the infinity pool, the seating and dining area and the bedrooms – wowsers. I think I could have swapped the house at home in Dublin and moved in there permanently. After a mouth-watering lunch of steak and fresh local fish, I had to sleep. As stunning and tempting as the beach below was, I had to catch some zzz's otherwise I'd collapse, and so I did to the sound of the waves lapping up against the rocks below…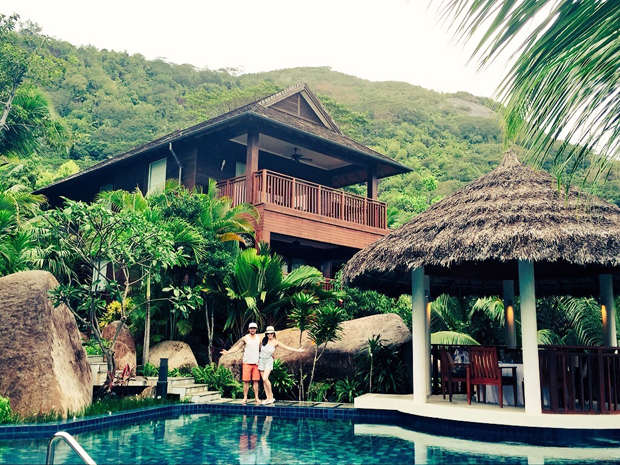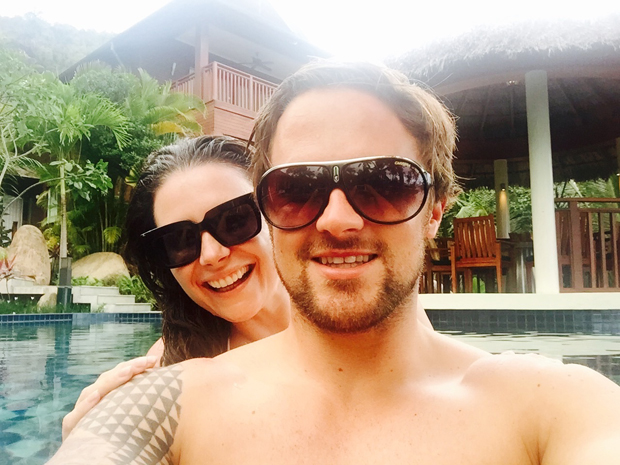 The next day I was ready to take on the world and so we booked a hike with the hotel to explore the island. Silhouette Island as mentioned is very lush and rocky so in the humidity, Richard and I and the guide packed our water bottles and towels and hit the trek. It was fascinating to explore the plant life and vegetation and area surrounding the hotel. Believe it or not, one of Richard's best friend's Dara actually served as a marine biologist on the island at the 5 stars Padi Dive Centre a few years back and had told us to try to get into to the sea, snorkel and see the whales in action as it's a fascinating part of the world. Silhouette Island is very conscious of conservation and it was so refreshing to talk to the guide and others at the resort about the future of the sea life and their tireless work. I felt like a bit of a sweaty Indiana Jones hiking for the few hours while working on the tan (oh how shallow) but it was great fun and super exercise too. Afterwards, I was well and truly worn out so Richard and I booked in for an amazing couples massage. I had heard tons about their Spa as it has won many awards and I always try and book in one or two on holiday as I feel it really helps me to decompress after a stressful time, but a couples massage is such fun, surrounded by all the lush vegetation. Between the sugar scrub, the relaxing music and the snores of Richard beside me I knew we were finally starting to relax on holiday. It couldn't have been more perfect!
As I mentioned earlier, I was trying to get a little more nourished after the wedding and since dinner was at Grann Kaz, the Creole restaurant I didn't hold back. If I need to eat, I eat.. I'm afraid I can't be polite about having 'just a salad'… I mean I love them but I tend to turn into Joan Collins in the Snickers ad if I don't have a true nosh up from time to time. The Creole food was de-licious! I was tucking into all the delights from the locals and delicacies, from gumbo and mango salads to the catch of the day.. it was a bit of a Charlie and the Chocolate factory moment where I was so excited about all the amazing food I nearly got indigestion. I hadn't had a dessert in weeks so Chocolate Cake never tasted so good and when we returned to the Villa, it was ablaze with candles and rose petals so it was an uber rose-mantic first night!
We were really beginning to get into the swing of doing nothing and chilling by the pool which wasn't easy at first… I had been so busy these past few months planning and stressing that I'd forgotten what it was like to have no cell coverage, phone switched off, and to be uncontactable (scary thought), just chatting, laughing and being generally engulfed in each other and all the beauty that the island possesses. We started to take long walks on the beach, swung in the hammocks, took the bikes out, read our books. We even got our snorkel gear and had a snoop around the shallow waters. Seychelles is simply breath-taking, the crystal clear blue waters and palm trees make it that bounty advert you know, remember and love. We booked a few more treats such as a romantic cruise which was so so lovely. We got dressed up in our finest and were taken on a one-on-one cruise with a captain and skipper across the reef and on into the Indian Ocean. We guzzled on champagne and savoury treats while the boat circled the island, it was magical. At sunset when the sun was slowly starting to fade, we stopped in the water for some pictures and although I am a romantic at heart and a tad cheesy, I saw Richard was quite emotional at that moment too, I think it had finally hit him (perhaps the champers too!) that we had gotten married. It was a special few minutes in time and while the red sun was glistening on the water and we clinked glasses, it was one of my favourite moments in years, I was crazy in love.
And so… the next few days consisted of eating, drinking cocktails and more eating and drinking cocktails.. heaven! My favourite restaurant there had to be Teppanyaki which is over a little cool jetty and by the lakeside. I'm a sushi nut so what was so different about this was that the chefs created the fresh food in front of you, almost as if your food comes to life! After a few Cosmos, we had our names spelt in the grill, the chef was flipping knives.. it was like a show. All those there were dumbfounded and the clapping was thunderous. After tons of delicious fish and fancy homemade cocktails, Richard and I waddled and wobbled up to the suite to find a bubble bath adorned with rose petals and balloons in the room plus the towels made into swans… I mean really?…. too cool….
On the last day we decided to do something a little different and since we were on our honeymoon the staff asked if they could prepare a seaside lunch for us on the beach as a final goodbye. Richard and I were delighted.. so after taking a long stroll to burn off breakfast we were 'summoned' to the private beach beside our Villa. It was like something out of a novel, there was the blanket, the champagne on ice, our favourite sushi and tempura from the restaurant the night before and a cake that said 'Happy Honeymooners'… it was magical. We were so near the sea, albeit shaded by a palm tree, it was like a picture postcard. I turned into selfie queen taking picture after picture of the moment. I was trying to get the whole blanket and sea thing in the photos but the food was getting cold and we were nearly eaten by the sea, but hey I didn't care, I needed my family and friends to see this… it was like that Bounty ad. After a few minutes the giddy goats that we are stopped, kicked off our flip flops and enjoyed the view. I've never felt so special, even Beyonce would have been blown away. So.. onwards and upwards, we said a tearful goodbye to the Hilton Labriz and hugged everyone for all their lovely well-wishes before jumping on our little seaplane to our next island home for another 4/5 days – 'Desroches Island'…
Not many people know that Richard and I are passionate about conservation, animals and preserving natural beauty and this is why stopping at Desroches for the few days was a must-see for us both. Richard grew up in Wales by the sea and is a keen surfer as are all his family – some of them Welsh champions – so for months in the lead up to the decision on the honeymoon we said that Desroches, one of the most truly beautiful natural destinations was on the MUST do list. Luckily for us, we made it a reality and found unspoilt remoteness like I've never seen. As you can gather from the blog I was keen to keep Richard for myself for the few weeks (no God, of course, we chatted to tons of couples and found out the life story of all the staff) but sometimes it's nice in the hustle and bustle of it all to just have each other and we had that all on the island. After we stepped off the seaplane onto the dusty runway (just to give you logistics, the island is only 6km long and 1km wide) it's like your own Robinson Crusoe experience. We were in heaven. All the staff wave you in while the plane is landing, it's super cute and needless to say we were bawling on the way home… but I'll get to that in a bit! When we arrived all sweaty and knackered, we had our little cold towels and were brought around the island on a beach buggy. The staff are so incredibly nice and are mostly from South Africa so already Richard was talking Rugby and World Cup banter was flying around. I couldn't help but notice how different it was from Silhouette, so flat and calm and tranquil. It was so peaceful there, with a gentle breeze and the freedom of sheer beauty, I have to say it was paradise. After we met Jonah (the life-size whale made out of sticks on the beach, a Kodak moment) we were escorted to our ultra-cool three bedroomed villa – cheers Rich! WOWSERS – We could have done a Jennifer Aniston on it and snuck all our mates on the honeymoon with us it was so big! However, that's the general feel of Seychelles. It's all sprawling and spectacular and no matter where you travel to there, they have outstanding digs which are the ultimate escape. Being here felt like a home away from home. The villa was so cool what with its own open plan kitchen if we fancied dining there one night, the huge TVs and yes.. there was wi-fi albeit limited but Richard was in his element! I had access to E! News which was great because I could tan and swot up on my celeb gossip at the same time. I was forever dunking in the pool and collecting quirky odd shells from the little beach that stretched for miles… Bliss.
So after settling in and a long snooze under the big beautiful double poster bed complete with mossie net we were famished… Most of the Honeymoon as you can gather centred around food and honestly at Desroches it was the best food I've ever tasted. Because the island is the size of a peanut, all the food is flown in and freshly prepared by all the crazy talented chefs so you're afforded the best of the best. On the first night, we had a fabulous evening meeting with the tiny team who run the island. We had cocktails, laughed and soaked up the atmosphere in their pretty bar underneath the stars. The beauty about having the time here was that it's so remote (it's a 45 min seaplane ride from Mahe), and with only one restaurant for breakfast, lunch and dinner, you really can unwind. It's like hanging out with friends and I was so relaxed in the first few hours I could have stayed there forever. Richard was thrilled with the casual sense of the place too, so although it's very high end (Kate and William stayed there no less) it's a flip flop and shorts kind of place, NO heels required and only a screed of makeup for night. It's so chilled you feel like they opened the bar and restaurant just for you – unique. I relished in the no makeup and dressed down approach because, after all the vats of puff and powder I have to wear on screen for TV every day I could just let my skin breathe. It's the most relaxed I've been in a decade on holiday – truth. We cycled everywhere on the island on the little dirt track roads and so at night after a few too many, it was hilarious trying to find the villa with only the pathway to guide us; giggling schoolkids!
Being there was good for my soul, I read 3 books from The Who's Pete Townshend's autobiography to Ronnie Wood's of the Rolling Stones and Richard tucked into the Gareth Thomas book. We took the liberty of exploring the island by foot and ran the gauntlet many times with coconuts nearly falling on our heads! We cycled too and spent an afternoon with the tortoises on the island, and met George who was 140 years old and spoke to many of the locals about their fishing and farming from the land. Many of the days were spent exploring after breakfast all the nooks and crannies of the island and somehow the absolute numpties that we are, we got lost and ended up in what could only be described as the Valley of the Spiders. Enormous spiders in their webs, harmless but who looked menacing… We decided to dump the bikes and kayak back around to our villa which was so much fun. If we had more time there I'm sure we would have tried scuba diving as they have a great dive centre there too, or maybe some game fishing. Because it's very remote, there is plenty of things to keep you entertained and busy every day if you'd like. Or if you're like us, a bit of lounging by the pool and relaxing after the wedding.
We took in another spa treatment here at 'Escape' for the two of us and just relished in the simplicity of the surroundings. After a lovely head massage I drifted off into a sense of serenity and calm… I think many times this was me at my happiest. We were totally horizontal on this part of the holiday from dining on all the delicious local foods by candlelight on the beach to swapping stories about the wedding to one of my favourite romantic dinners by our pool. We went off for a walk and when we came back at 7pm our pool was lit up, there was pink Moet on ice with canapés (lovely) and dinner was prepared for us in our kitchen by two of the staff – no way! It was so special and at Desroches they are always trying to help make your honeymoon really special. Again, I took tons of photos and even the selfie stick we bought in Penneys got some great use (handy thing that!). We cranked up the stereo in our villa and danced around like loons to all our favourite music. Nobody is near so you could essentially be Richard Branson and pretend you own the whole island! Ha!
After our final day drew to a close, I felt so sad. Wicus, the general manager whom Richard and I had become friends with (we bonded over cocktails about his love for Sinead O' Connor) said he witnessed a few tears as we boarded the seaplane. I felt like I got my bounce back and was harmonised, I find it hard to fully chill out so after all the anxiety over the past year as they say in the Disney movie 'Frozen' – 'Let it Go'… Oh and I did, we both did; blubbed all the way back to Mahe sad to leave the tiny island. However, we still had one final island discovery left in Seychelles – a few nights at The Four Seasons. Yep, again, well done Richard!
As the sun blazed through the skies we had one final experience to discover and that put big grins back on our faces. Like before at the Hilton, we were picked up from the jetty of the Four Seasons and driven to the hotel which is ST-U-U-UNING… there are tiny treehouses perched upon a height cut into the beautiful rocks on the cliff face. It's like a little sleek sanctuary overlooking the Indian Ocean complete with lush vegetation surrounding you, a few bats swooping in the distance (honestly only cute fruit bats and they make it SO cool) plus again your own pool. What's so great about Seychelles as a honeymooner was the total privacy, that's what you pay for – the exclusivity, and it's so lovely to even have that with each other once in a lifetime especially on this most important holiday.
Now over 10 days into the holiday I was so relaxed and ready for a bit of glamour. We were back to meeting a lot more people on honeymoon there too and spent hours photographing the plants, flowers and unreal coastline. Of everywhere in the world and I've travelled extensively, I think the bay/alcove Petite Anse beach surrounded by the rocks is one of the most beautiful sights in the world. I must have taken over 100 pictures with nobody in it just the scenery. Even now when I think of that view, it puts a smile on my face.
We checked into our breath-taking Ocean View Villa which has panoramic views of the Indian Ocean, a little deck area for sunbathing, a private pool as mentioned and an enormous sunken tub. I had brought over two rubber ducks that had a veil and a suit on as bride and groom (present from a cheeky friend) so they had a permanent residency there for the few days!  When we arrived at the room there was a beautiful iced chocolate cake with 'Happy Honeymoon' on it and a bottle of champers so we were overjoyed and got stuck in! I was thinking we should get married more often because everyone just wants you to celebrate and you're treated so highly that it makes sense to get married every year just to be spoilt like this? Right??…. If only…
The Villa was so cosy and charming that we spent a lot of time there swimming, listening to music and playing in the pool. We were on such a height that getting a buggy down meant you could take in all the sights of the palatial place en route to the beach. We usually dined at the ZEZ, their ultra-modern restaurant overlooking the bay which has, a quote by me: 'the biggest breakfast spread I had EVER seen'. It was tremendous! I was troughing on dumplings, banana cake and even oysters if I fancied it! I'm more an eggs and smoothie girl but I couldn't say no to the mimosas in the morning… T'would have been rude not to! Looking back I'm delighted I ate and drank my fill (ok I'm back a bit to where I was with a wee pouch, more nourished, chubby cheeky and feeling healthy and happy like I've never felt before) that's what having a honeymoon is for, you spend so much of your hard-earned money on it so enjoy it!! Richard and I had saved for over a year and a half for this so we enjoyed every day like it was our last and savoured everything from the beauty of the surroundings at the hotel to the Spa experience.
This couples massage was like nothing I had ever done before, it centred around your well-being and juxtaposed eastern medicine with your date of birth and star sign. It was fascinating. I had heard about this treatment from a friend of mine who had also booked this for her honeymoon last year and couldn't stop talking about how she felt afterwards and the feeling of well-being. So, when I was there we booked in and had what can only be described as a heavenly experience, whether it was the sound of the ocean below or how deeply relaxed I was, I floated off into the stratosphere. Afterwards I was teary and felt rejuvenated. Richard thought it was brilliant that finally now I was resting like I deserved and could put all the worry of the wedding behind me and focus on getting back to life again. I had my little cinnamon drink at the hilltop afterwards and spent over an hour gazing into the sunset, in reflection. I thought a lot about my mother that day and how proud she would have been of us both, so it was a very spiritual moment. Afterwards, we were brought our food which matched our star sign and chakra. I was lake and Richard was earth, all the foods in the bento box reflected what you should be eating for well-being. Mine was sushi.. who would have guessed my favourite… washed down by my next best favourite, champers! Voila!
Our last night at the Four Seasons like on any holiday was tinged with a little lightening look back on how amazing the honeymoon experience was, from my daily fashion show of bikinis (one which proudly displayed Mrs Keatley on the bum) to cracking open bubbles at 3pm in the afternoon because we could?! Exploring wildlife, swimming with sea life, drawing in the sand, hammocks and indulging on all that the other side of the world has to offer. We even made friends with other guests and the staff everywhere were so lovely. I couldn't get over that everyone remembers your name, especially at the Four Seasons. Before I'd even got to the table for breakfast, the hostess greeted me with Hello Mrs. Keatley. Secretly I loved it and the classic was 'Your husband is waiting for you by the bar'… that never got old, or funnily enough did looking at him. It's true what they say about a honeymoon, you fall in love all over again and for us that was true. I felt so blessed and happy. Happy to have time together and happy I said YES!!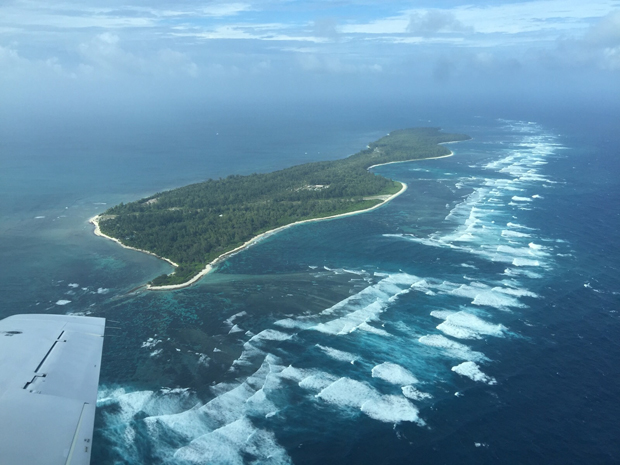 Dreary ol' Dublin seemed so far away, but although I adore my home I wasn't ready to say hello to it just yet, we had one final stop before home and that was Dubai! So on our last day at the Four Seasons we hugged everyone again and made our way in the crisp morning air to the local airport to board our plane to Dubai. Lifting off over the islands we had called home for over 12 days was amazing. We watched as the turquoise waters slowly faded into the background and we welcomed the hustle and bustle of the very alive city of Dubai!
Having been there once before over 2 years ago, I loved it and knew what to expect. Richard is a seasoned Dubai goer having been there 6 times, but never tires of it! This was our final stand so we went out with a bang and checked in for 2 nights into again The Four Seasons on Jumeriah Beach – swanky! Thanks again Richard – chief organiser! So after we arrived at what can only be described as a palace, we were back into city life. The cars, the fashion, the energy and pace. Having operated in first gear in Seychelles it was a welcome shift to now crank it up to fourth gear and see shops and everyday brands.
Our room was a beautiful palatial sea view room taking in the sights of the Arabian Gulf, complete with dates and goodies on arrival plus roses on our bed – aww. I have to say being on honeymoon is so fabulous and each place we stayed made us feel like rock stars. Dubai was so slick and high end it really made us end on the highest of high notes! After exploring the hotel with its to die for interiors and marble floors. I couldn't stop looking at all the cars parked outside from Ferraris to Lamborghinis and the pile high stacked Louis Vuitton suitcases, we were mere blow-ins but enjoyed the excitement of it all no end.
With only 2 days to explore we sampled the delights of the pool, had some beers and headed into the malls to take a snoop. Having been there before I knew the sheer size of them but honestly, I had forgotten – wow, huge! We wandered around, took in some sights too and then stopped off for some dinner at the Ritz Carlton with some sushi at their Pan Asian restaurant 'Blue Jade' which was delicious. We hung out, drank cocktails and soaked up the Arabian skyline which is overwhelming. Richard's best friend Burrwa lives in Dubai so he was able to tell us all the places to dine and see, it was a real shame he wasn't there over the 2 days but we have seen him since and he mapped out stuff for us to do which was brilliant.
On our final day I rented a cabana at the Four Seasons right by the pool as a surprise for Richard so he could watch Wales play, there is a TV there and some refreshments so when you begin to start sizzling you can chill out in there. Needless to say, this was like he had won the lotto, I was a good wife that day! Cabanas aside, I took time to enjoy the hotel and see all its beauty too. My favourite was again those sumptuous breakfasts complete with oven-baked pizzas if you wanted it?… I mean really?.. how cool.
We had a great time in Dubai, it's like a big playground and even squeezed in a fabulous meal at the Armani Restaurant at their famous Armani Hotel, which like the beginning of the holiday in Tuscany was 6/7 courses. I had arranged this as a special thank you to Richard for organising and picking out the honeymoon, so yet again it was like the Last Supper. We devoured all the delicious foods and expensive wines put in front of us. We sat in a booth and the backdrop was the twinkling lights of the city. I had brought over 2 beautiful dresses from Cari's Closet in Malahide so after 2 weeks of flip flops and suncream I broke back into heels and glamour with my black dress, it never felt so good!
So sadly that was it! The honeymoon of a lifetime, between the parties in Florence to the feasts in Tuscany and Dubai, with the islands of Desroches and Silhouette, and the poshness of the Four Seasons I think we were well and truly spoilt and lucky. I've never been on a whirlwind holiday like it nor will I be again. Obviously there was so much more to it between excursions and snorkelling, snoozing and sightseeing, but that's an overall synopsis! It's wonderful to write about it too as it helps me relive it again.. but back to Dubai. Emotions were running high as we stood in the lobby having waved goodbye to the Arabian princesses who had given us a gift of some flowers to take with us as an Arabic promise of wealth, love and prosperity. I sobbed those ugly tears in the taxi to the airport and Richard was just brilliant. I know life's moments of weddings and babies bring such joy to people and for very good reason; it's a day or moment in life when it's a happy time and it's a celebration of that. I'm blessed and I count them always so when you're saying goodbye to something epic, you open new doors for another enriching experience.
Thank you all for reading my book! Ha… your tea/coffee must be stone cold by now! I'm worse in person I keep talking for hours!… but I hope you enjoyed a wee insight into my life post-wedding and what a gift it was to be able to relax and take it all in with the man I love. Moreover, I'm so delighted I was given the opportunity from weddingsonline to share my wedding journey this past year and see it unfold before my eyes. For years to come this will be fun fire-side reading for me. I'd like to thank you again for your support and kind words of encouragement and although the wedding and honeymoon was epic or 'off the charts' as Richard likes to say… the best is yet to come!!
Lots of Love and Light….. toodleoooooo…signing off as…….Mrs. Cannon Keatley! Xxx