So… hellooooo ladies! It's been a few weeks now since I've had the pleasure of being able to talk about my favourite topic 'Fashion' and so far this week I've been bombarded with women at the races, from the stunning Killarney Races to the more competitive and wild Galway races.. boy it's been really good fun! I really, really have enjoyed the excitement of Race Week but, to be honest, it's not about the betting or the race track for me – it's all about the dresses and hats and you can get great inspiration from there for your day after wedding dresses… now hats aside (you most certainly WON'T need one of those), it's all about enjoying the relaxing pace of the day after a wedding and to be honest I'm sure you'll be hungover and ready for a real fine feast of a good fry up or a tasty brunch. In most instances, if your wedding is abroad the couple will try and do a yummy brunch for friends and family or a BBQ. For home weddings, it tends to be lunch in the hotel the next day or perhaps something even more casual back at the house, so today I've trawled the shops for you and found 4 suitable outfits that will take you from day to night and that would be perfect for the day after the wedding.
For my wedding abroad in Florence – almost a year ago now, I had a really relaxing day at Il Borro which was in the centre of Florence by the Ponte Vecchio bridges and was a stunning bistro restaurant that is owned by the Ferragamo family. We had the most delicious brunch for friends and family and this speaks ONLY to the brides-to-be out there – you CAN wear WHITE! I know loads of brides that wear white the day after their wedding day and for me, it was a wonderful sign that I was now married and enjoying the celebrations. I actually wore quite a bit of white on my Honeymoon also.
Look 1
I have found this as the first number for the bride from Topshop so hope you like it. It's not white but the shape is exquisite for almost all body shapes!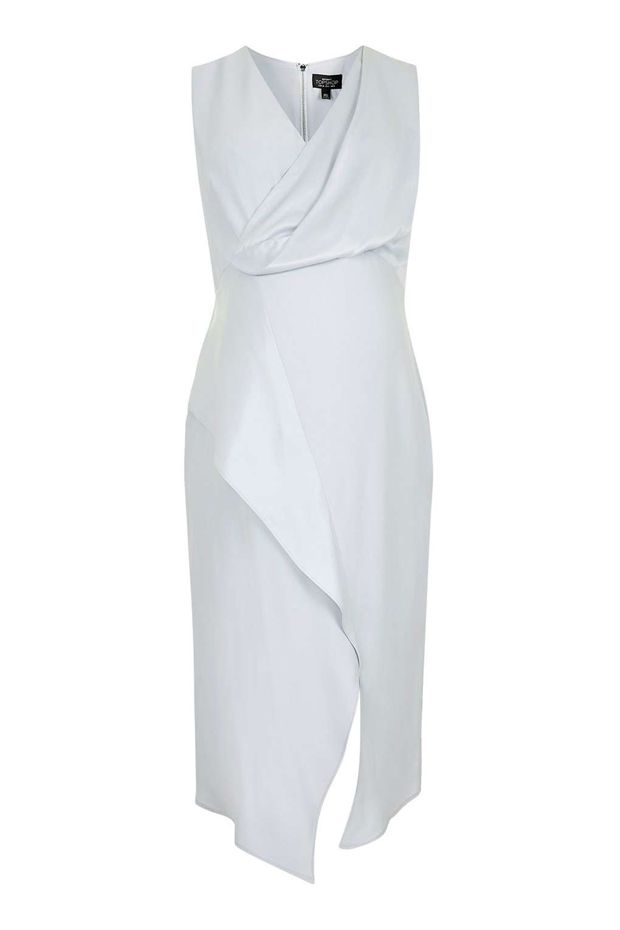 This particular dress is actually a very pale blue, almost white blue so it's perfect for the day after but what's so pretty about it is the folds and pleats. It's extremely flattering and is a dress in a similar style to the one I wore the day after my own wedding day. The classic midi dress comes updated for the new season with chic pastel hues and if you're a larger chest like me – this is a superb shape. You can wear your shape-wear with it and you can enjoy the comfort of a good fabric. Sitting just below the knee, this sophisticated style comes detailed with a plunging V-neckline and elegantly tiered wrap skirt. Finished with a flattering draped detailing to the bodice, it fastens with a zipper to the back. I would team this with a nude wedge or gold sandals and very little jewellery, only perhaps your new shiny wedding rings and your hubby on the side! This is 100% Viscose and machine washable so you can get plenty of wear out of it if you go on holiday as well.
Look 2
For the 'Seconds' dress, I recommend something a little more relaxed and this would work perfectly for a guest at the wedding for the day after at a more casual affair.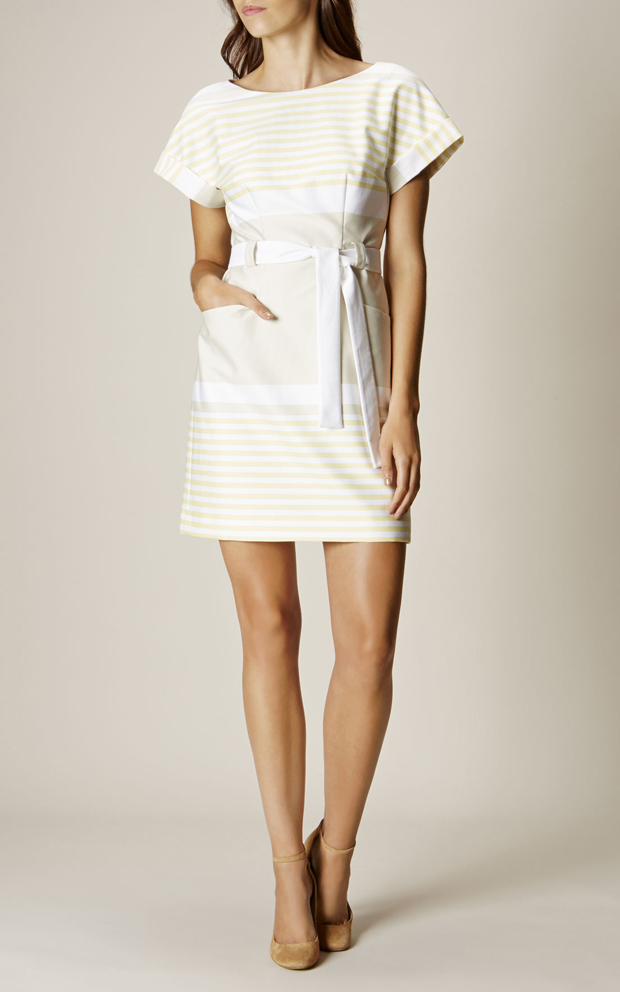 This is such a beautiful summery stunning lemon dress from Karen Millen. I wore this recently to a function in Dublin and I got tons of compliments on my Instagram and of course in person! What's so great about this is that it's pretty but at the same time, functional. I wore grey shoes with mine and a grey bag which is timeless and it's a real dress that can bring you from day to night. Simply pop your hair up and add some sparkly shoes and you can wear it into the evening if it's a daytime casual BBQ. What is so great about it is the diversity – stripes in taupe, white and yellow, make this trans-seasonal wardrobe option a real star buy. Pair with a white blazer on sunny days, or throw on a mac when it's cooler and you could even have this then into Autumn/Winter.
Look 3
If the day after the wedding is a more formal affair and it's another big dinner on the second day then look no further than one of my favourite stores, Oasis.
Oasis have brought out a brand new collection called the V&A collection, aptly titled after the wonderfully unique museum and really gives us a flavour of what the tapestry and ideas of the V&A is all about. This green and black number is one of my favourites from the collection as it screams sophistication and is by far one of the most beautiful pieces in the gallery of clothing this season. I love the quirky shoulders and the strong green palette. What is also beautiful is the design of the dress and the fact that it goes to the knee, well… it's got all the Hollywood glamour needed.
I'm especially fond of the lush foliage inspired by the V&A archive which takes centre stage, not to mention that luxurious lace collar which is so stylish and will have you standing out from the crowd for all the right reasons.
Look 4
Finally, I have gone for something that is again simple but beautiful from Next that is effortless and will be floaty and stunning the minute you put it on.
I always think that a long floaty dress works so well the day after a wedding because it's comfortable and can set off any event. If it's more casual, team with sparkly flip flops and if it's more dressy then a dressy wedge and some hoop earrings and a little clutch will work beautifully. It's amazing what you can wear to a day after event that can be brought from beach to bar or day to night if the right accessories work with it. This peach number from Next is a winner for all the right reasons and the flattering line of the dress means that if you've overindulged the past few days at the wedding you can hide a multitude. Not forgetting, it's still very summery and fresh and you will get tons of compliments in it!
My final advice is this….Whatever you decide to do to keep the party going, you're going to want to be comfortable. Chances are, your wedding day itself got the heels-and-Spanx treatment and more often that not most women are on their knees with bulbous feet and tired hair by the end of a long night of partying and celebrating…
Go easy on yourself and tone it down a little bit and make sure that you get something that works for the day and for the night. But if you happen to be the bride in this instance then your guests will still be excited to see what you pick to wear. You'll want to look and feel great, no matter what.
Day Two is a great day to be relaxed with your new husband and your family and friends and at the end of the day, the most important thing you can wear is your sparkly new rings and a smile – after all you just got married and congratulations!!!!!
Lisa xxx